Early Years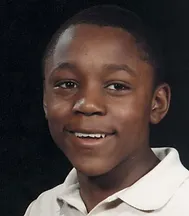 Barry Sanders was born July 16,1968 in Wichita, Kansas. He is one of eleven children born to William and Shirley Sanders to whom he attributes his quiet, humble nature following the lead of his older brothers. Barry began playing football at a young age and often he could be found playing in the fields surrounding his Kansas home imitating his favorites Running Backs. Guys like Eric Metcalf, Marcus Allen, Eric Dickerson, and Tony Dorsett inspired him. Although Barry dreamed of playing RB while he attended Wichita North High School, he only played defensive back most of his high school career. In 1985 Coach B took over and in the fourth game, of his senior season, he was moved over to the running back position that he is known for today. His 1,400+ yard season earned him All-State honors, however due to his size he received only four scholarship offers, including one from Oklahoma State University.
Oklahoma State University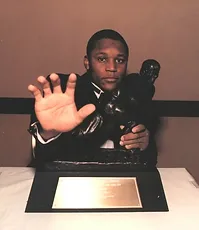 In 1986, Barry enrolled at Oklahoma State University. He backed up Thurman Thomas for his first two years and although leading the nation in kick-off return yards was a sign of what was to come, no one could have expected what Barry did as a Junior.

His 1988 season is widely regarded as the greatest single offensive season in college football history. He set 36 NCAA records that season, including, 7.6 yards per carry, over 320 total yards per game, 2,628 yards rushing, 3,248 total yards, 234 points, and 39 touchdowns in only eleven games. These totals don't include the five touch downs and 225 yards he had in the 1988 Holiday Bowl.

At the end of the season Barry was awarded the 1988 Heisman Trophy, which he accepted from Japan, becoming the first Heisman winner to rush for 225 yards and 5 TDs the day he won the trophy! His pro workout day was legendary. He came out to the field, leaped up and grabbed the crossbar to do a one armed pull up for the coaches that were assembled. He ran a 4.3 forty, and followed it up with a 4.29. He benched 225 lbs., twenty seven times and then asked the coaches if that was good enough. He had a 44" vertical leap that led Wayne Fontes to light a cigar, and tell the other coaches to go home. Wayne was taking Barry, and with that, he declared for the NFL Draft.
Detroit Lions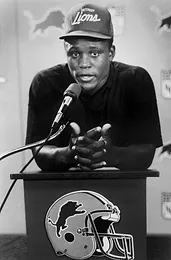 Barry was selected by the Detroit Lions with the 3rd overall pick in the 1989 NFL Draft. He played ten Pro Bowl seasons in the NFL, all for the Lions, averaging over 1,500 rushing yards per season. He won the NFL's Most Valuable Player award in 1993 and also in 1997, rushing for 2,053 yards and eleven touchdowns that year. Barry left the game just 1,457 yards short of passing legend Walter Payton to become first on the NFL All-Time list. He still holds over ten NFL records, including most consecutive seasons with 1,000+ rushing yards, most consecutive games with 100+ yards, most games with 150+ yards rushing. Barry retired after the 1998 season and has resided in Detroit since. He considers his relationships with Detroit Lions fans one of his great accomplishments in the game.
Life After Football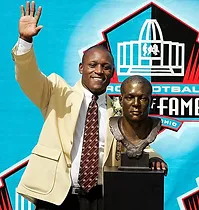 Barry was inducted to both the Pro Football Hall of Fame and the College Football Hall of Fame in 2004. In 2020, he was named to the NFL All-Time Team as one of its greatest "100 Hundred Players" and is listed at number nine on College Football's "150 Greatest Players" list. Barry is enjoying his retirement and has become an All-Star in the world of business. His relationships span across dozens of companies including running his Barry Sanders Nissan dealerships and Lefty's Cheesesteak stores. He holds a special assistant role to the Ford Family and the Detroit Lions' President, plays as much golf as he can and supports several charities including the Scleroderma Research Foundation. He has been very lucky to get to spend a lot of his time with his four sons, Barry, Nigel, Nic and Noah too. Barry played football at Stanford and Oklahoma State. He now works at EA Sports on Madden products. Nigel is at Howard studying music production and design. Nic is a walk-on freshman for the Michigan State basketball team and Noah is a high school student athlete in Detroit, Michigan.